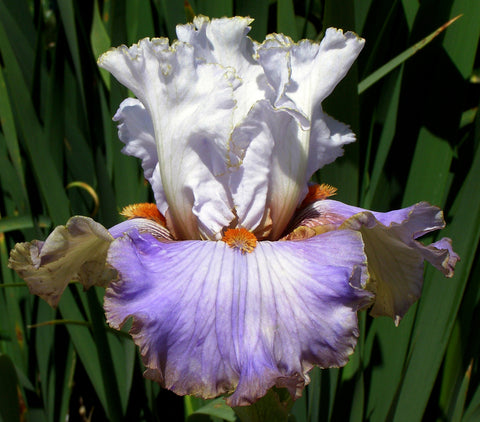 Wired
Interesting coloration and gilding. Ice blue standards (upper petals) are red-purple at the base with a gold wire rim at the edge. Wisteria blue falls (lower petals) have a plum purple band at the edge and are gilded with a gold wire rim. Orange beards, 7 to 9 buds on thick stalks.
Seedling V-133-A: S-481: (Connie Sue x Ghio 98-3F) X Soft Side.
Best seedling of show, Visalia CA 2010.
| | |
| --- | --- |
| Hybridizer | M. Sutton |
| Introduction Year | 2011 |
| Rebloom Zone | N/A |
| Number of Reblooms | N/A |
| Rebloom Reliablity | N/A |
| Category | Tall Bearded |
---
We Also Recommend