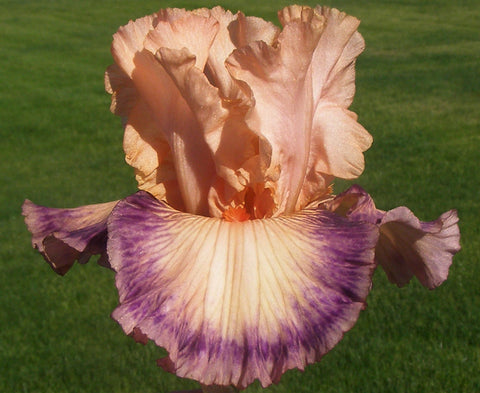 Berry Blast
30" Mid to late season bloomer.  
A bit shorter than most tall bearded iris but what it lacks in stature it more than makes up for in color! Rich azalea pink standards (upper petals) have soft ruffles and serrated edges. Pale orange falls (lower petals) are patterned with ½" marbled violet band with a ¼" purple rim on the outside edge. The rim on the bottom of the falls widens to ½". Bright carrot beards add flare to this garden standout.
Seedling Z-98-C: Coral Cove X Photogenic.
| | |
| --- | --- |
| Hybridizer | M. Sutton |
| Introduction Year | 2017 |
| Rebloom Zone | N/A |
| Number of Reblooms | N/A |
| Rebloom Reliablity | N/A |
| Category | Tall Bearded |
---
We Also Recommend