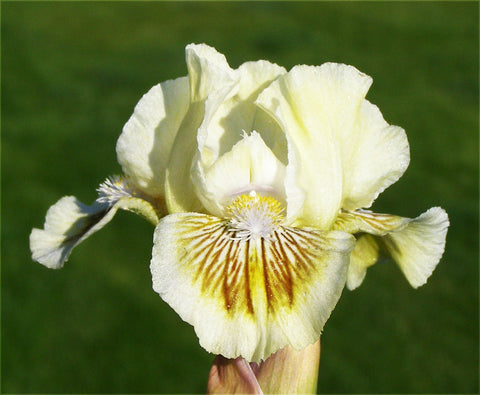 Cheerful Chipmunk
10" Early - mid season bloomer.
Distinctive dwarf bearded iris with unusual color and pattern. Pale butter yellow standards (upper petals) flow into pale yellow falls. Chartreuse thumbprint on the falls (lower petals) has beech brown veining extending out from the yellow beards. Great flower for the front of garden beds.
Seedling AZ-595-A: Reddy Freddie X Puddy Tat.
| | |
| --- | --- |
| Hybridizer | M. Sutton |
| Introduction Year | 2017 |
| Rebloom Zone | N/A |
| Number of Reblooms | N/A |
| Rebloom Reliablity | N/A |
| Category | Standard Dwarf Bearded |
---
We Also Recommend