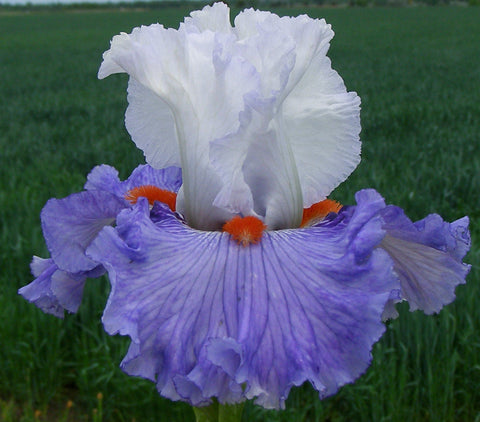 True Patriot
37" Mid season bloomer.
Stunning! Ruffled ice white standards (upper petals) preside over ruffled French blue falls (lower petals) that have darker veining and shoulders.  Vivid carrot orange beards virtually glow on the wonderfully formed falls.  Excellent branching and bud count with 7 to 9 buds on near perfect stems. 
Seedling AM-07/2977-1: AM-03/1250-1: (AM-99/0393-2: (Acoma x Twilight Blaze)) x (AM-99/0387-1: (Twilight Blaze x Conjuration)) X Gypsy Lord.
| | |
| --- | --- |
| Hybridizer | A. Mego |
| Introduction Year | 2017 |
| Rebloom Zone | N/A |
| Number of Reblooms | N/A |
| Rebloom Reliablity | N/A |
| Category | Tall Bearded |
---
We Also Recommend