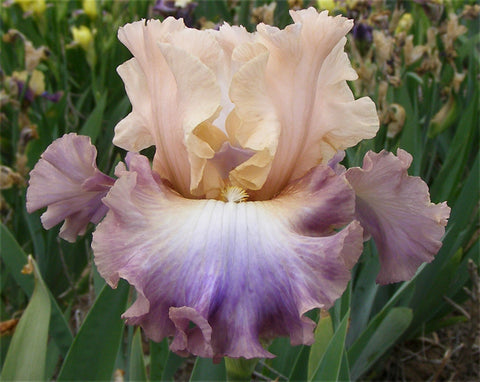 Quiet Beauty
37" Mid, late, to very late season bloomer.
Soft and pleasing pastel colors grace this ruffled and well formed beauty. Pale red purple standards (upper petals) are gently touched lilac at the midribs. Well balanced and proportioned falls (lower petals) start out white then blend into rose purple gradually darkening towards the edge. Yellow beards rest between pale red purple shoulders. 7 to 9 buds on excellent well balanced stalks.
Seedling Z-40-A: Bandwidth X V-277: (Second Helping x R-391: (Adventurous x Spot On)).
| | |
| --- | --- |
| Hybridizer | M. Sutton |
| Introduction Year | 2017 |
| Rebloom Zone | N/A |
| Number of Reblooms | N/A |
| Rebloom Reliablity | N/A |
| Category | Tall Bearded |
---
We Also Recommend