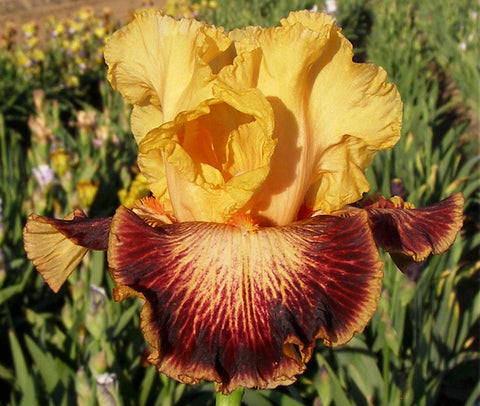 Rocket Fuel
37" Early, mid, to late season bloomer.
Amazing garden flower with great color and heavy bloom! Orange standards (upper petals) are lightly laced and gently serrated. Falls (lower petals) have an orange buff zonal burst with veining that radiates into a thick grayed red band. The band has some subtle black influences and is bordered by a ¼" grayed orange rim. 7 to 9 buds per stalk with heavy growth and bloom habits.
Seedling Z-797-D: Fruit Stripe X Bottle Rocket.
| | |
| --- | --- |
| Hybridizer | M. Sutton |
| Introduction Year | 2017 |
| Rebloom Zone | N/A |
| Number of Reblooms | N/A |
| Rebloom Reliablity | N/A |
| Category | Tall Bearded |
---
We Also Recommend