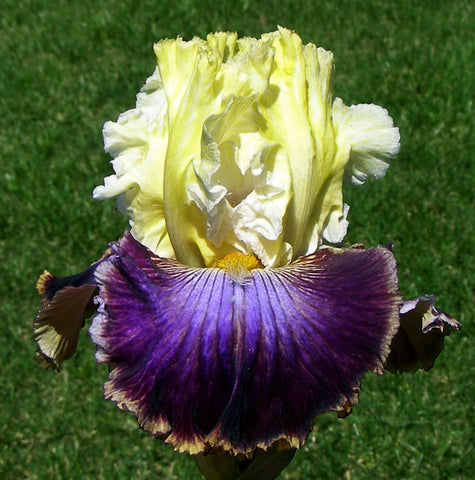 Twin Cities
Chartreuse yellow standards (upper petals) are veined and edged white. Falls (lower petals) are white around yellow-gold beards blending to a violet blue starburst which becomes plum purple towards the rim. 1/4" pale violet-blue rim on upper half, golden tan rim on lower half of petal. 7 to 9 buds with occasional rebloom in late fall and extremely early spring.  Limited Supply!
37" mid to late rebloomer.
Seedling U-254-A: S-481-A: (Connie Sue x Ghio 98-3F) X Mountain Sunrise.
| | |
| --- | --- |
| Hybridizer | M. Sutton |
| Introduction Year | 2011 |
| Rebloom Zone | z-9 |
| Number of Reblooms | 2 |
| Rebloom Reliablity | Reliable rebloom |
| Category | Tall Bearded |
---
We Also Recommend